The Kansa Wand: An Ancient Tool with Modern Benefits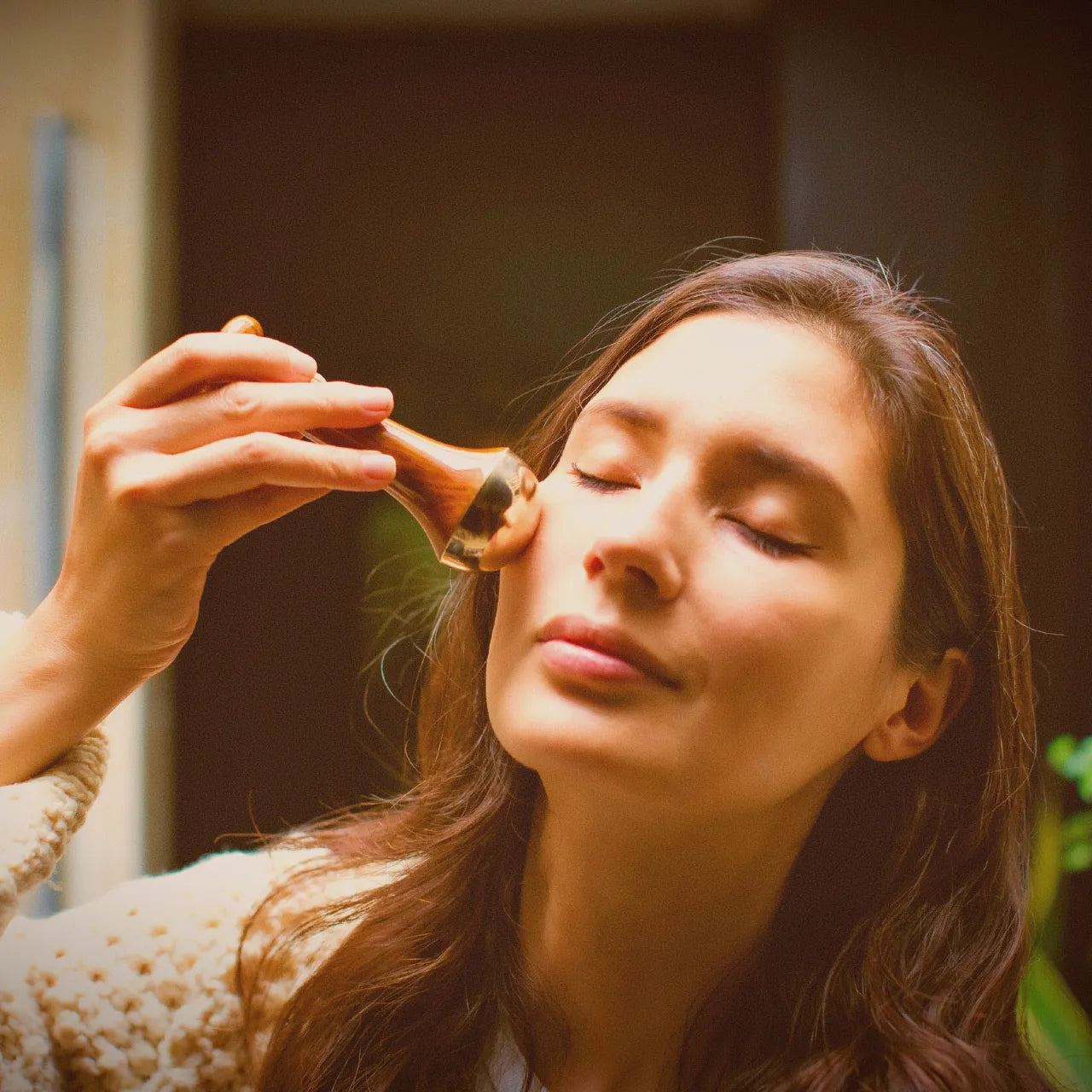 The Ayurvedic Kansa wand offers more than just skincare benefits to the skin. It also can promote lymphatic drainage and circulation, detoxifying the body in the process. Kansa, derived from the Sanskrit word for "bronze," is a metal alloy that is primarily composed of copper. In Ayurvedic medicine, copper is known for its antimicrobial and detoxifying properties, which makes it a valuable component in many remedies. The Kansa wand can improve lymphatic function, cleanse impurities, and enhance the complexion. 
Now, what is the Kansa wand?
The Kansa wand is a portable wooden tool with a copper and tin rounded tip that offers numerous benefits. These include pH level balance, detoxification, and most notably, skin improvement. The wand achieves these benefits by stimulating the marma points on the face, which are energy centers responsible for maintaining internal balance. Due to its convenient portability and effortless application, the Kansa wand is a potent yet straightforward addition to your daily skincare routine.
What advantages does the Kansa wand offer?
Let's delve into the benefits of this powerful tool.
Boosting lymphatic flow
Through the massage of the skin's marma points, the Kansa wand stimulates the removal of toxins from the lymph nodes, activating the skin's natural detoxification processes. This results in a complexion that is clearer, brighter, and more luminous. Moreover, a study has demonstrated that manual lymphatic drainage can alleviate the swelling.
Restoring the skin's pH balance
Ayurvedic tradition maintains that the metal used in the Kansa wand helps to harmonize the skin's pH levels. Although the skin's typical pH level is slightly below 5, imbalanced pH levels can worsen skin issues such as acne, inflammation, and wrinkles. By restoring the skin's pH balance, the Kansa wand is thought to enhance overall skin health.
Reducing stress and muscular tension
By precisely targeting the marma points on the face, the Kansa wand has the potential to ease stress, release muscle tension, and enhance energy flow throughout the body. With marma therapy, you can target specific points to address your particular concerns and attain your desired outcomes.
Enhancing the skin's glow and complexion
Research has indicated that facial massages boost blood flow and enhance the skin's overall health. Incorporating the Kansa wand into your daily routine is an effortless means of achieving a luminous and radiant complexion.
Sources
Why should you be using a Kansa wand?




https://www.womenshealthmag.com/beauty/a30986296/what-is-a-kansa-wand/

The Kansa Wand




https://www.umaoils.com/blogs/uma-oils/the-kansa-wand-is-a-powerful-ayurvedic-tool-for-your-skin-here-s-how-to-use-it